September '04 News Archive
---
9/28/04 - Cool Customs!
Here is another attempt to create the V8 Interceptor from Mad Max using RC2's Scooby Doo 2 car, but this time, Craig Mueller not only did the car from the first film, he also created the car from the SECOND film: The Road Warrior. Terrific work Craig! I'm really impressed. Nice work on the engines. You've inspired me to create the dirty "tanks" version myself. For those of you interested in how Craig did it, click on the following link for a detailed explanation.
http://www.mboxcommunity.com/dcforum/DCForumID4/631.html
---
9/28/04 - Collectors' Collections
Beat Sandhofer of Switzerland has sent me pics of his 1:18 scale car collection displayed in his office. He says:
"Well, at the moment I have 7 displays. They are all made of Acryl by a famous
German Manufacturer (www.sora.de). I really can recommend them, as the two
big displays (with the Back to the Future Cars and the older Bond Cars) are
made especially for me, the other are "Standard" displays they always have
on stock."
Click HERE to see more photos of Beat's collection.
---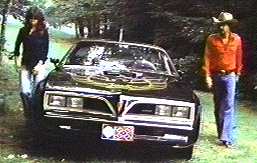 9/23/04 - Hollywood on Wheels 6 REVEALED!
This is the biggest news to come down the pike in quite some time. I picked up the latest edition of Diamond Distributors' Previews catalog and was surprised to see Hollywood on Wheels 6 being solicited in its pages! Here is the lineup listed:
2 Fast 2 Furious: Nissan Skyline Custom
2 Fast 2 Furious: '04 Cadillac Escalade
Vanishing Point: '70 Dodge Challenger
Charlie's Angels (2000) '69 Camaro SS Convertible
Smokey & The Bandit: '77 Firebird
Dukes of Hazzard: '69 Charger, '72 Plymouth Road Runner & Daisy's Jeep CJ-5
Gone in 60 Seconds: '73 Mustang Mach I
The Italian Job: '69 Yenko Nova
The Punisher: '69 Pontiac GTO
and Herbie the Love Bug
Upon posting this info on the Hobby Talk Forum, I was notified by a Johnny Lightning rep that the Cadillac Escalade will be replaced by a 2003 Nissan 350Z and the GTO from The Punisher won't happen because of licensing issues.
Now, here are my thoughts: I'm really looking forward to adding the Camaro from Charlie's Angels (the 2000 film) and the Vanishing Point Challenger to my collection. And my The Fast & The Furious collection would be incomplete without Brian's Nissan Skyline. It will be interesting to see if Johnny Lightning improves upon the inaccuracies of RC2's Bandit Trans-Am and The Dukes of Hazzard cars, specifically, The General Lee. If JL makes these cars more accurate (including accurate wheels) then I'll add these to my collection as well. I'm scratching my head over the Yenko Nova (I don't remember it in the film) and ANOTHER Herbie? It would be cool if it split in half or something, but do we REALLY need a Herbie re-release? I'm pretty shocked that Christine didn't make this list. RC2 has the license AND the perfect casting to do this car. I wonder why it wasn't included in HOW6.
---
9/18/04 - My Piranha Custom
After tackling the Mad Max custom, I decided to finish up another custom I've been working on: the Piranha from The Man from U.N.C.L.E. The one I owned wasn't in the best condition, so I decided to fix it up a bit. I disassembled it, stripped the paint, added JL rims and red line tires, repainted the body and trim and put it all back together. It looks a lot more like the car used on the TV series.
---
9/15/04 - My Mad Max V8 Interceptor Custom
Here's my first attempt at customizing the V8 Interceptor from the Scooby Doo 2 car. Each time I make a custom, I learn a lot. It's not perfect, but it turned out really nice. I disassembled the car I got on eBay (which had the Scooby Doo tampos already removed) and swapped out the wheels. I used Johnny Lightning black rims and BF Goodrich tires provided by Superduty455 from the Hobby Talk Bulletin Board. I used larger tires from a JL pickup truck for the rear wheels. I added a rooftop spoiler from a Hot Wheels plastic-body NASCAR racecar. I painted the side exhausts, reassembled the car, then added the appropriate decals to the sides and front of the car. Let me know what you think.
---
9/13/04 - Chitty Chitty Bang Bang from SEG Toys
Click on the above thumbnail to see the new product unveiled at the San Diego Comic Con from Stevenson Entertainment Group. Apparently, SEG Toys has the license to do a line of figures based on the classic film Chitty Chitty Bang Bang, including a pretty spectacular Chitty Chitty. I e-mailed the company about the possibility of a die-cast version of this beautiful car. Here is the response I got:
Thanks for your message...since Chitty is a 2005 product we don't have official photos yet. I have no official word on die-cast yet...the car you saw from Comic-Con will be plastic and there will be at least two versions of it (can't go into the details yet, though)."
Regards,
Lou Zucaro
Chief Operations Officer, Stevenson Entertainment Group, LLC
I'm going to assume the second version of the car is going to be the "boat" version of the car. I can't wait to add these to my toy collection.
---
9/12/04 - Cool Customs
Received an e-mail from "Merrill" who shared some photos of his Magnum P.I. and Christine customs. Here's what he had to say:
"I thought you may like to see my custom Magnum P.I. Ferrari 308, Island Hoppers Helicopter and Vanagon. I didn't like the Matchbox "Star Cars" version of the Ferrari, so I used Hotwheels' 1977 "Racebait 308." I used Hotwheels' 1981 "Sunagon" for T.C.'s van. The Ferrari's top can be taken off and stored behind the seats, the Vanagon has a scratch built interior with seating for six. I also found a couple of no-name Hughes 500 helicopters and painted them the "Island Hoppers" colors, which look way better than the
"Star Cars" version. Also, I customized my American Muscle's 1/64 Belvedere by switching the whitewall tires with the Ford Starliner from the "Early Muscle" 3 car set, pried under the gas tank and front suspension to reveal the screws giving me access to the interior. I then painted the whole thing red, and the steering wheel white with red accents."
---
9/11/04 - Latest Acquisition: My Holy Grail!
Yet another eBay purchase arrived in the mail today. I guess you can call this one my latest "Holy Grail." Majorette produced a line of vehicles based on the TV series Dallas in 1981. When I began collecting TV & movie die-cast cars a few years ago, most of the Dallas vehicles didn't appeal to me, but I thought it would be cool to have the Ewing Oil Co. tanker truck. Unfortunately, it rarely showed up on eBay, and when it did, I always got outbid. Well, it showed up again, and this time I won the auction. I paid $57.77 plus shipping, which is the most I've ever paid for a die-cast vehicle. But It's a great addition to my collection.
---
9/11/04 - HW Batman vs. Catwoman
Thanks to a tip from Kuan Chee Hai, this was spotted at the forum on Hot Wheels Collector.com. Hot Wheels has another Batman 2-Pack lined up for us. This time it's a silver version of the Hardnoze Batmobile VS. Catwoman's Dairy Delivery van. Milk in a saucer anyone?
---
9/10/04 - More Cool Customs!
Here is a pic of some cool 1:64 customs created by Graham Little of the U.K. In the photo we have a "lowered" Ecto-1A, built-from-scratch Cruiser from Space Precinct, '66 Batmobile, Mad Max Interceptor and a Ford Taurus Police Cruiser from Robocop. Very nice work Graham.
---
9/9/04 - Cool Custom!
Here is Craig Mueller's attempt at creating Mad Max's V8 Interceptor from RC2's 1:64 Scooby Doo 2 Mobile. All it needs is that rooftop spoiler. Looks nice Craig.
If you've attempted to customize your own Mad Max Interceptor, send me a photo of the finished product.
---
9/7/04 - Christine?
I received an e-mail from "Andrew" and attached was a photo of what appears to be RC2's 1:18 scale version of Christine! Check out the black tinted windows! I'll try to get confirmation from my rep at RC2 that it is genuine and not an elaborate custom. Thanks Andrew for providing the photo.
UPDATE: According to Collectors Net USA, the car in the photo above IS INDEED a 1:18 scale die-cast Christine. I received an e-mail telling me they are accepting pre-orders for a December shipping date. It didn't mention the manufacturer, but I'm assuming it's RC2. This is great news!
---
9/6/04 - The Big Game
For those of you who haven't seen it, I wanted to share my short film with you. In The Big Game (2002), I play a guy who wins a 350 million dollar jackpot and tries to become Batman. It's only 5 minutes long. Let me know what you think. If you have a cable or DSL connection, view the 700k version by clicking on the link above.
---
9/6/04 - Talking Cars in September
Wow! Where has the summer gone? It's time for the September edition of Talking Cars. Among the topics included in this month's Q&A are My Favorite Martian, display cases, Hollywood on Wheels, LXG, Speed Racer's Mach 4, National Lampoon's Vacation, The Saint and Ghostbusters. Click HERE and enjoy.
---
9/4/04 - 1:18 K.I.T.T. Unveiled!
I've gotten several e-mails alerting me to the fact that RC2's 1:18 K.I.T.T. from Knight Rider has been unveiled at the Showcase Toys website. It looks pretty awesome! Visit Mike's site to pre-order the car for October delivery.
---
9/4/04 - New Info on RC2's "Mad Max Interceptor"
I received an e-mail from Dan Vasquez whose keen eye noticed the RC2 car that resembles the V8 Interceptor from Mad Max can easily be found in a 5-pack of Scooby Doo 2 cars. So you too can have this car in your collection, if you want to go through the trouble of removing the tampos. Usually, nail polish remover on a Q-Tip will do the job nicely. Or you can disassemble the entire car, soak the body in paint remover, then repaint it. This news comes as a bit of a shock for me, considering I paid $20 for the car on eBay, and in an earlier auction, the same car sold for $50.
Thanks Dan for the photo and info.
---
9/1/04 - My New Display!
I couldn't wait to share this with everyone! How much do you think I paid for the above display case? $80? $100? Not even close! I built it MYSELF with less than $40 worth of supplies from Home Depot. I'm really happy with it. Okay, so I used too much glue in some areas and the shelves aren't PERFECTLY straight, but I think it looks really nice. The cars show up really nicely against the "stone" background. The vertical dividers can be moved to create some flexibility and the top and bottom rows are a little taller to accommodate taller vehicles, like semi-trucks. It was a great learning experience. I'd like to thank my father-in-law Rex Wood for cutting the acrylic sheets for me. Since I worked out the bugs on this one, I'm thinking of making more and selling them here on my site. Let me know what you think. Oh, and don't worry about the empty bottom shelf. I have some things coming that will fill it up nicely!
---