May '08
News Archive
---
5/31/08 - The Dark Knight
Although The Dark Knight won't be in theaters until July 18th, the toys have been in stores for weeks. Apparently, Mattel will continue to offer new 1:64 scale die-cast cars representing the sequel to Batman Begins. Visiting the Hot Wheels Collectors Forums, I spotted the above pics posted by mcmtanyel who found these "Action Duos" at Toys R Us.
6/2 UPDATE: I found both sets of Action Duos at Toys R Us today. I've created a new page for The Dark Knight.
---
5/29/08 - "Where does he get those wonderful toys?"
Well, I nabbed three of the new Hot Wheels 1:50 scale Bat-Vehicles in a trade at a local comic book store. These things have been IMPOSSIBLE to find at the big retail stores here in Michigan. I consider myself lucky to have found these three: Comic Book Batmobile, Animated Series Batmobile and '66 Batcycle. All three are great, but I especially love the Batcycle. It's so cool to FINALLY have this in die-cast. The '66 Batmobile was sold out, so I'm still looking for that one. Apparently, The Dark Knight Batmobile is shipping in current assortments, so I'll have to be on the lookout for that one, too. For those of you who don't feel like driving from store to store searching for these things, Rodney at Movie Car Mania told me he recently got a shipment in. Click on the link in the top right column.
---
5/29/08 - Legendary Shelby Mustang
I haven't seen this movie yet, but I got an e-mail from Oz Jansen suggesting that I add the 2007 movie I am Legend to the Hollywood Die-Cast Gallery. The red 2007 Shelby GT-500 featured in the movie has been produced in die-cast form by Shelby Collectibles in both 1:64 scale and 1:18 scale. Browsing eBay, I noticed Hot Wheels offers this car in both 1:64 and 1:18 scale as well. Although I wouldn't call them OFFICIALLY licensed movie die-cast, they do fall under the unofficial list of TV and movie cars and a good catch by Oz. I've added an I am Legend page to the Movie Gallery. For a short list of other unofficial TV & movie die-cast cars, click HERE. Send me an e-mail if you know of any others that should be added to the TV & movie car galleries.
---
5/25/08 - 50 Most Memorable Movie Cars
With 2008 shaping up to be a memorable year of car movies, the website Rotten Tomatoes has announced the 50 Most Memorable Movie Cars. It's a really great list with pics of every single car on the list. There are a lot of cars on the list that wouldn't have occurred to me, and some of my favorite movie cars rank a little low, such as Bulllit's Mustang at #25 and the '66 Batmobile at #13. At least James Bond's Aston Martin DB5 is on this list! Click on the link above and enjoy.
---
5/25/08 - Cars Motor Speedway of the South
My friend from the Cars the Toys Forum, crazycarsmommyto2, was one of the lucky recipients of the Cars Motor Speedway of the South set. A Hot Wheels Red Line Club exclusive, this amazing collection of cars was limited to 1000 sets and has been arriving in the mail just a few days after selling out. I passed on this set because I thought the asking price of $300 was too steep, but now these sets are regularly fetching well over $500 on eBay and individual cars are going for $25 per car. Thanks for the photos crazycarsmommyto2. I've added a pic to the Cars Gallery.
5/31/08 UPDATE: As of today, prices on eBay have soared into the $700-$800 range!
---
5/23/08 - Indiana Jones: My Review
I just got back from seeing Indiana Jones & The Kingdom of the Crystal Skull. I felt like I was 15 years old again as the Paramount logo appeared on the screen. As a huge fan of the Indiana Jones trilogy, I was giddy with excitement to see a brand new, fresh Indiana Jones movie unfold before my eyes. As Harrison Ford donned his fedora one more time, in my mind I proclaimed him the greatest living movie star today. Within the first 30 minutes of the movie, I laughed out loud, clenched the arms of my chair and marveled at the screen as Indy got himself in and out of trouble. If any of my friends there with me had turned to glance at me, they would've seen me grinning from ear to ear, my eyes wide open. There was even an early moment that had me spontaneously applaud! Indiana Jones was BACK!
But as the movie progressed, and I settled down to watch the story unfold, the enthusiasm began to fade. While there were some moments deliberately included to appease the Indy fans in the audience, other moments seemed to be made to alienate the audience (pun intended.) At some point, I began to feel like I was watching a theme park attraction, or more appropriately, a video game BASED on the adventures of Indiana Jones. The heavy use of CGI during some of the action sequences had me longing for the exciting stunt work of the first three movies. I knew it was a stuntman dragging behind that truck in Raiders, but it was still DAMN thrilling! With CGI, it feels like there is nothing at stake. Nothing feels real.
I'll try not to give away any major plot points here, but halfway through the film, I fully expected Agents Mulder and Scully to step in and say, "We'll take it from here." Story elements that seemed unworthy of an Indiana Jones movie would've made a pretty darn good X-Files movie. As I drove home from the movie theater, believe it or not, I was filled with a twinge of sadness. A sadness that we may never again see Harrison Ford in an action/adventure movie again. A sadness that I may never again see a movie that instills in me the sense of wonder and awe I felt watching the movies of my youth. A sadness that today's action/adventure/sci-fi movies have the shallow look and substance of a video game.
Thank God for my DVD collection.
---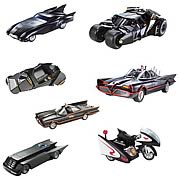 5/20/08 - Holy Bat Boat, Batman!
I was browsing around Entertainment Earth when I saw they were soliciting orders for future waves of Mattel's 1:50 scale Bat-Vehicles. Slated to be included in Wave 3 is none other than the famed Bat Boat! Though no pics of the boat were revealed, this is exciting news for die-cast collectors. The wave will also include a '66 Batmobile with trailer hitch. How cool is that? Wave 4 will include the '89 movie Batmobile as well as the SUPERFRIENDS Batmobile! It just keeps getting better and better. Click on the pic above for more info.
---
5/17/08 - Keeping Up with the Joneses
I was watching the Indiana Jones marathon on the Sci-Fi Channel when I decided to search for info on Hasbro's Titanium Series. Entertainment Earth had a pic of the entire Wave 2 (above), slated to ship in June. Watching the movies, I spotted so many vehicles that could be included in future waves of this line. My friends and I are pretty fired up about new movie coming out this week!
---
5/17/08 - Crossing the finish line... for now.
Well, I caved (again) and went the eBay route to get me all caught up with my Cars collection (for now.) Gaspirin & Tow Cap arrived in the mail today (Saturday). I got it for a fairly reasonable price, especially considering it saves me the gas and frustration of driving from store to store to store and finding nothing new in my area. Actually, I did find the Bob Cutlass & Darrell Cartrip Movie Moments 2-Pack, and even though I already have each one on a single card, it's nice to see these two packaged together. I've updated the Cars Gallery.
---
5/16/08 - Reunited...and it feels so good.
The Motor City Comic Con kicked off today (Friday) and continues through Sunday. It was the first time The Monkeemobile was displayed in public since Mel purchased the car at the Barrett-Jackson Auction in January and brought it to southeastern Michigan. The car was parked just a few feet away from one of the original Monkees, Micky Dolenz. During a pause in his autographing duties, Micky came over to get reunited with the car and chat with its new owner. It was great to see Mel with a huge grin on his face as he met one of his idols.
Michael Serrico was instrumental in making this reunion possible after he spotted pics posted right here on this website back in February. Mike heads up a group of owners with movie & TV car replicas in the Metro Detroit area. He had his KITT replica on display at the Comic Con.
Also in attendance was Erik Estrada of CHiPs fame. I had the pleasure of meeting him and having him sign my CHiPs Motorcyle. He really seemed like a super-nice guy.
And finally, I had a chance to chat with Paul Harrington of www.canadiandukes.com. On display was a replica of the General Lee, as well as other vehicles, props and collectibles from The Dukes of Hazzard. I promised Paul I'd mention the upcoming Hair Dare Dukes Weekend, scheduled to take place on August 22, 2008 in Leamington, Ontario, Canada. I'm told the event benefits a good cause and features celebrities and cars from the TV show. Visit www.canadiandukes.com for more information.
---
5/14/08 - Race Day is Quickly Approaching!
After months of anticipation, Mattel has announced May 20th as the day they will begin taking orders on their Hot Wheels Red Line Club Exclusive Cars Motor Speedway of the South. I count 36 cars included in this boxed set. 12 of those cars, however, have been previously released. Still, it's a very impressive package and very tempting to order. No official price has been announced but speculation puts it around the $150 range.
5/15 UPDATE: Mattel revealed the cost of the boxed set: a whopping $299.99 + $12.95 for shipping and processing. HOLY MOLY! Too rich for my blood.
5/20 UPDATE: SOLD OUT!!!
---
5/13/08 - Holy Red Line, Batman!
Today (Tuesday) was the first day members of the Hot Wheels Red Line Club were able to place an order for the exclusive RLC '66 TV Series Batmobile. Here are features of this new offering:
Spectraflame® true black finish
Red pinstripes and Batman™ logo tampo
Neo-Classics™ Redline® wheels
Full-metal chassis
Clear windshield
Black interior
The window of opportunity closes on Monday, May 19. If you're already a member, the car will cost you $14.99. If you're not a member, you'll have to purchase membership along with the car. The Batmobile will ship in October. Visit www.hotwheelscollectors.com for more information.
---
5/10/08 - Not Quite KITT
Robert Russell of Shelby Collectibles was kind enough to respond to an e-mail I had sent regarding the upcoming 1:18 scale KITT die-cast car. He cleared up a misconception caused by online vendors using an image of KITT to solicit orders:
"We are making a '08 GT 500KR black/black which is used as the Knight Rider car. We don't call it KITT or Knight Rider, but are making that exact car, the non-pursuit model, the standard Shelby."
---
5/10/08 - Speed Racer - My Review
I saw Speed Racer on Friday, May 9 after work. At least I think I did. It might have just been a weird dream. If the Wachowski brothers set out to create something unlike anything you've ever seen in a movie, well then, they succeeded. It DEFINITELY was a unique experience. Take a little Dick Tracy, sprinkle in a little Willy Wonka, and add a touch of Pee Wee's Big Adventure, and you begin to get the idea. I really enjoyed the eye-popping color palette, the transitions and backgrounds. The aspect I enjoyed most about the movie was the casting choices. Emile Hirsch at times reminded me of a young Elvis Presley, which isn't that much of a stretch, because I read that Elvis partly inspired the original Speed Racer. Christina Ricci was stunning as Trixie. Matthew Fox was terrific as Racer X. But rising above all else was John Goodman as Pops. Whenever he was on the screen I forgot, for a moment, about all the cartoony stuff, and thoroughly enjoyed his performance. Personally, I feel he was the best thing about this movie.
Now the bad: In a movie that was supposed to get you all fired up about the racing sequences, I was shocked at the quality of those racing sequences. If I didn't know better, I'd say Mattel was allowed to design the tracks and cars in addition to producing the toys. There were no real-world physics to the racing. Nothing looked believable. The animation felt flat and at times, disorienting and confusing. The animation in Pixar's Cars was one hundred times more realistic and exciting. Just as I would find myself enjoying Speed Racer, I would cringe and roll my eyes as the racing sequences got underway.
Overall, I came away having enjoyed the movie, but because of the actors and characters and not the special effects. The martial arts fight scenes were a lot of fun. And I have to admit, I got goosebumps every time I heard the sound effect as Speed deployed the Mach 5's auto-jacks (SHA SHA SHA SHA!) and those musical notes that had me singing "Here he comes...." I do recommend taking the little ones to see this film and I'll definitely be buying it on DVD down the road.
---
5/7/08 - Wizard of Ahhhhs!
I got my Wizard Entertainment e-mail today and was surprised by their "Breaking News" article. In honor of Speed Racer opening on Friday, the Wizard staff has put together a list of The Top 25 Cars from TV & Movies. There are some surprising inclusions and shocking OMISSIONS (where is James Bond's Aston Martin DB5?). Judge for yourself and click HERE to check out the list.
---
5/5/08 - Wal*Mart's Going Batty!
Apparently, Mattel's 1:50 scale Bat-Vehicles are showing up at Wal*Mart stores. Several eBay auctions have sprung up declaring these are Wal*Mart exclusives. I found the above pics on eBay. So far, I've only seen auctions for the '66 Batmobile, Batcycle and the Batmobile from the animated series. I believe there will be two more vehicles, the movie Batmobile and a version based on the comic books. I'll hit all my local Wal*Mart stores this week to see what I can find.
---
5/4/08 - The Cars of Iron Man
I saw Iron Man last night (Saturday) and found it to be thoroughly entertaining. Although there were elements that were probably familiar to moviegoers my age (traces of Robocop, Robocop 2 and The Rocketeer, to name a few) I would still rank Iron Man in the Top 5 greatest comic book movies ever made, right up there with Batman, Spider-Man and The X-Men. Robert Downey, Jr. was fantastic as Tony Stark, portraying him as a very witty and likable hero.
Now, I wouldn't call Iron Man a CAR movie, but the movie sure did feature some beautiful cars. The most prominent car was Tony Stark's Audi R8, pictured above left. An Audi Q7 can be seen later in the film as Iron Man plays catch with his nemesis Iron Monger. Also spotted in the film is a Rolls Royce Phantom, a '32 Ford Roadster, a Saleen S7, a Tesla Roadster and a Shelby Cobra (pictured above, right, OUCH.) Oh yeah, and let's not forget the military Humvees. With any luck, maybe a die-cast car manufacturer will give us the Tony Stark collection in a 1:64 scale boxed set.
---